Introducing Our Practice Team
Veterinary surgeon and practice owner Charlotte Clough works full time alongside assistant veterinary surgeon Danielle Jackson . We provide our own emergency service 24 hours a day, 365 days of the year, tending to a wide range of species, including wildlife.
In 2020 we calculated that we had treated or been involved in some way with 39 different species of domestic and wild animals and birds here on Arran.
We are ably supported at the surgery by receptionist and trainee nurses, Shona Hume, Gemma Ferguson and Ellis Mckelvie.
---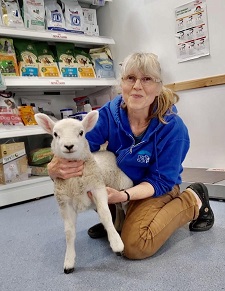 Charlotte Clough BVet Med CertSAD MRCVS
I grew up in a small farming community in South Derbyshire and having been fascinated by animals and birds of all sorts from an early age, only ever wanted to be a vet. Having qualified from the Royal Veterinary College London in 1985 I worked in a number of practices whilst gaining an extra Dermatology qualification in 1993. This was followed by part time general work and Dermatology referrals whilst my children were young. I helped out with the 2001 Foot and Mouth crisis and then most recently worked as a general practitioner in the very busy Barn Animal Hospital in North Hampshire from 2001 to 2015 . This was combined with running a small family farm with Dexter cattle and sheep for 16 years.
Having spent many holidays on the West Coast of Scotland I was delighted to have the opportunity to join the very special community on Arran, taking over the veterinary practice on 20th April 2015. I am privileged to continue to do the job I love in such a beautiful part of the world, with such supportive clients and I am really enjoying the great variety of animals and birds that make up my patients on Arran.
When not working I have been enjoying the wonderful scenery, walking and bird watching with Border Collie, Ted. I also keep a few chickens, outside aviary birds and two cats. These are occasionally joined by recuperating wild birds before release, one released Barn Owl loitering in the forestry around the house for many months in 2019
---
Dr Danielle Jackson BVSc MRCVS SAVC MCMI
Danielle qualified as a vet from the University of Liverpool in 2014 and joined Arran Vets in November 2019.
She has previously worked in the UK in veterinary practices in Gloucestershire and Glasgow and also in South Africa as a Wildlife Veterinarian and Wildlife manager, with Ikhala Veterinary Wildlife Services.
She is founder and project manager of the first mounted anti-poaching unit in the Eastern Cape of South Africa protecting rhino.
Danielle and fiance Jake Dove have really enjoyed the move to Arran and over the last year have acquired Border terrier Max,rescue stray kitten Leo and horse Arran .
---
Gemma Ferguson
Gemma Ferguson joined Arran Vets right at the beginning in May 2015 so her hard work has helped make the surgery what it is now. She gained a Veterinary Care Assistant Diploma from the College of Animal Welfare in April 2017 , followed by a City & Guilds Level 2 Certificate in Assisting Veterinary Surgeons in the Monitoring of Animal Patients under Anesthesia and sedation in 2019, when she was the best student in her year.
Gemma has grown up on Arran and always wanted to be a veterinary nurse. When not at work she is kept very busy with her young family but still finds time to volunteer with the Coastguard . The latest additions to the Ferguson household are two adventurous ginger cats called Rambo and Rocky who arrived at the surgery as abandoned starving kittens.
---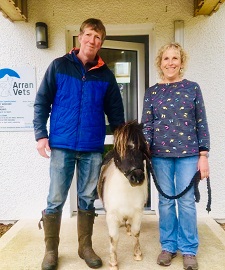 Shona Hume
Shona has been assisting at the old and now the new surgeries in Brodick for well over 35 years . She continues to gives much appreciated and invaluable assistance for Saturday mornings and Monday and Friday evening surgeries and whenever an extra pair of hands are needed during a canine ceasarian. Shona was born on Arran and has lived here all her life. She also previously worked on the island as a dental nurse, which lead to confusion sometimes if a client had visited the dentist earlier in the day!
---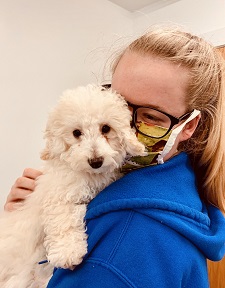 Ellis Mckelvie
Ellis was a very welcome addition to our expanding team in January 2020 though this proved to be a challenging year. Ellis was also born on Arran,attending Arran High School. She gained a Distinction in her Certificate in the Level 2 veterinary Care Assistant course in 2019.
Ellis enjoys walking and riding and recently adopted two stray kittens , Ricky and Luna who are making themselves at home in Whiting Bay and have already been thoroughly tamed by Ellis.